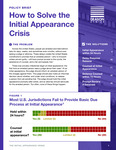 Description
Across the United States, people are arrested and held behind bars for days, weeks, and sometimes even months, without ever seeing a judge or attorney. These delays violate the United States Constitution's promise that an arrested person—who is innocent unless proven guilty—will have prompt access to the courts, the assistance of counsel, and a fair and speedy trial.
These due process milestones begin at initial appearance: the first time an arrested person sees a judge about their case. At an initial appearance, the judge should inform an arrested person of the charges against them. The judge should also make an informed decision about whether, and under what conditions, to release a person from jail pending trial. The judge should hold this initial appearance promptly after arrest, and an attorney should advocate for the arrested person. Too often, none of these things happen.
This policy brief outlines five best legal practices for jurisdictions to honor the United States Constitution and protect the rights of all arrested people. In addition to detailing each best practice, the publication outlines strategies for success that jurisdictions can use when implementing these vital policies.
Publisher
Southern Methodist University, Deason Criminal Justice Reform Center
Creative Commons License


This work is licensed under a Creative Commons Attribution-No Derivative Works 4.0 International License.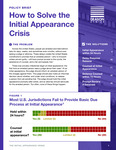 Included in
COinS