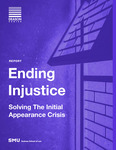 Description
Most Americans expect that if they are arrested, they will quickly appear before a judge, learn about the charges, and have an attorney assigned to defend them. The reality is vastly different. After arrest, a person can wait in jail for days, weeks, or even months before seeing a judge or meeting an attorney. This report chronicles the resulting initial appearance crisis and highlights its devastating consequences. More importantly, it provides policymakers and advocates with actionable recommendations.
Disciplines
Criminal Procedure | Legal Ethics and Professional Responsibility | Legislation
Recommended Citation
Pamela R Metzger, Janet C Hoeffel, Kristin Meeks & Sandra Sidi, Ending Injustice: Solving the Initial Appearance Crisis (2021), https://doi.org/10.25172/dc.3

Creative Commons License


This work is licensed under a Creative Commons Attribution-No Derivative Works 4.0 International License.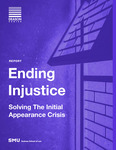 COinS