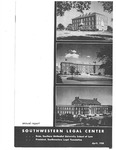 Description
One of the major student activities during the past year was Esquire Week held in November, sponsored by the Student Bar Association. A mock trial, football game between members of the two legal fraternities, reception, and a semi-formal dance constituted the activity.
The school operated a second Foreign Specialists Program for the International Educational Exchange Service of the U. S. Department of State.
The SMU school of Law Development Fund was created.
The Foundation is presently engaged in a comprehensive study to determine the feasibility of a nuclear energy compact among the 16 southern states comprising the Southern Governors Conference.
The Institute of Law Enforcement, established in 1957 as an adjunct of the Criminal Justice Division of the Foundation, is designed to provide in-service training for supervisory personnel of police and probation departments, judges, prosecutors and traffic court judges.
The Foundation has determined to inaugurate, in English and Spanish editions, Law of the Americas: A Yearbook, or in Spanish, Derecho de Las Americas: Anuario.
Publication Date
4-18-1958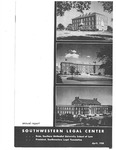 COinS