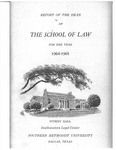 Description
The summer residence is now optional.
The library continues to rank among the largest private law school libraries in the country.
The most pressing need is a library building. Preliminary drawings have been authorized for presentation to the University's building commission and consulting architects. This will become a major project for the immediate future.
The annual reception for alumni following the football game on the Homecoming Weekend is becoming a significant tradition.
The Law School was one of twenty institutions selected by the National Council on Legal Clinics to receive a $42,000 grant over a three year period to extend and expand legal services to the indigent and to emphasize through seminars in professional responsibility the claims that are made on the lawyer to observe the highest ideals of his profession in serving those unable to help themselves.
In the fall of 1964, the Law School Faculty adopted a resolution to establish an annual lecture in honor of the Dean Emeritus and President of the Southwestern Legal Foundation, Dr. Robert G. Storey.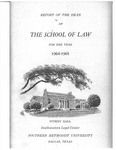 COinS