The Office of Undergraduate Research, the Honors Research Association, the Central University Libraries, the Office of Engaged Learning, and the Office of Research and Graduate Studies are proud to announce the launch of the SMU Journal of Undergraduate Research (JoUR).
This is a double-blind, peer-reviewed journal dedicated to publishing the finest accomplishments of SMU student researchers. The SMU JoUR will showcase the diverse and significant research and scholarship currently being done by SMU undergraduate students throughout the university.
Request for information about publication in SMU JoUR should be sent to Farley V. Ferrante, Managing Editor, at smujour@smu.edu or fferrante@smu.edu.
Current Volume: Volume 2 (2019)
Articles
Letter from the Editor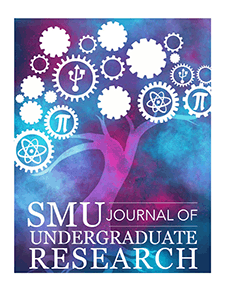 Editors
EDITOR IN CHIEF

Melina Corriveau

MANAGING EDITOR

Farley Ferrante

ASSISTANT EDITORS

Manqi Shi
Jonathan Lindbloom